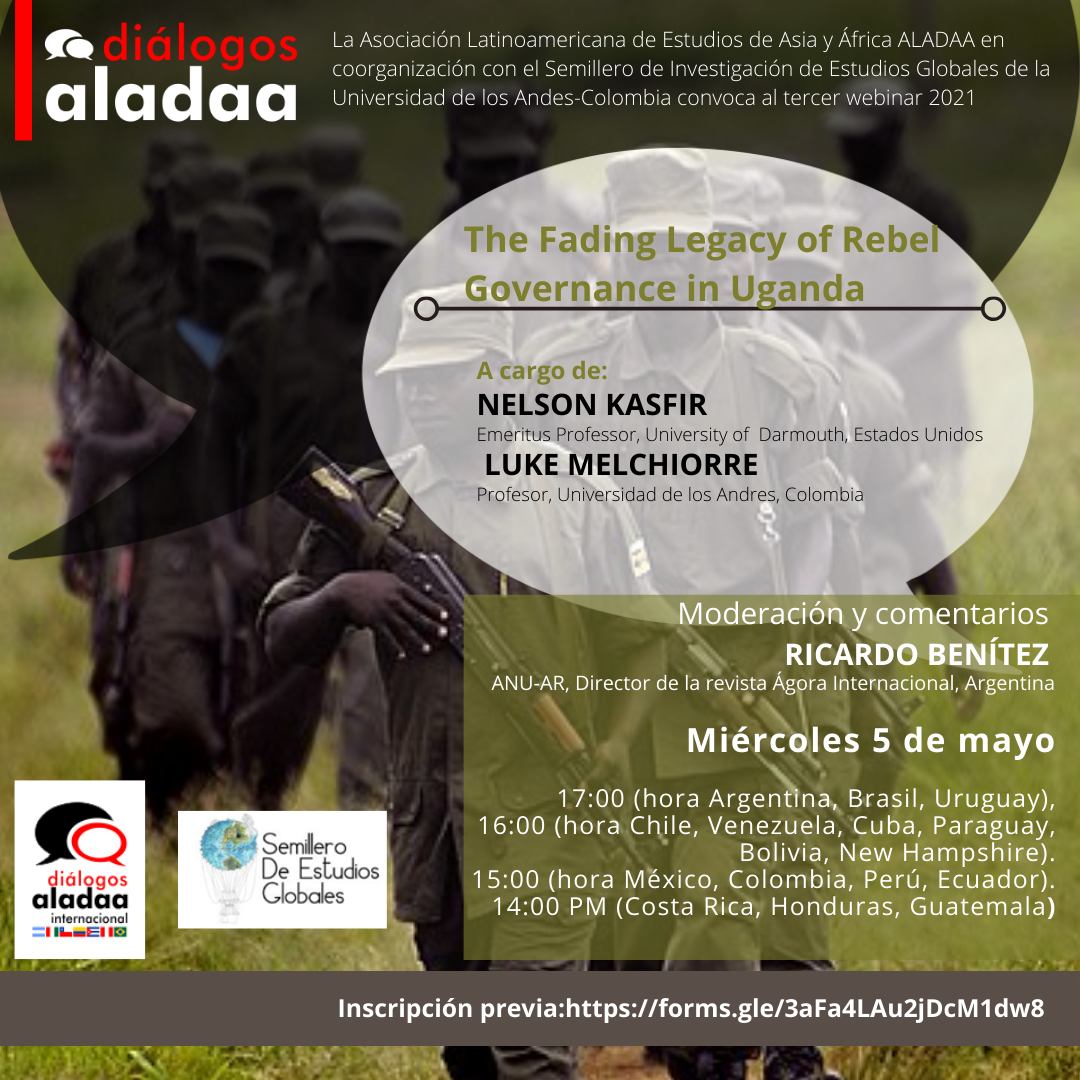 Diálogos ALADAA en coorganización con el Semillero de Investigación de Estudios Globales de la Universidad de los Andes-Colombia, convocan a la tercera sesión webinar:
The Fading Legacy of Rebel Governance in Uganda
EVENTO EN INGLÉS
a cargo de:
NELSON KASFIR (Emeritus Professor, University of Dartmouth, US)
LUKE MELCHIORRE (Profesor, Universidad de los Andes, Colombia)
Moderación y comentarios: RICARDO BENÍTEZ (ANU-AR, Director de la revista Ágora Internacional, Argentina)
Miércoles 5 de mayo, 17:00 (hora Argentina, Brasil, Uruguay),
16:00 (hora Chile, Venezuela, Cuba, Paraguay, Bolivia, New Hampshire).
15:00 (hora México, Colombia, Perú, Ecuador).
14:00 PM (Costa Rica, Honduras, Guatemala).
Por favor realizar la inscripción previa en el siguiente enlace:
https://forms.gle/3aFa4LAu2jDcM1dw8
ABSTRACT
The conventional view asserts that rebels who take over the government of a state by military force are in the best position to adopt policies that incorporate their rebel governance. The leaders of the National Resistance Army (NRA) deviated from their wartime structures and doctrines almost immediately after their victory and increasingly over time. When they took power, these leaders had expected to institute popular democracy in every village, parliamentary democracy, good governance, and a quasi-radical approach to economic development. Instead, they consistently chose to secure their grip on power and opportunities for profit. There were four reasons, each contradicting some aspect of their practice and promises as rebels. They chose to increase the role of their military in government and ban other political parties in response to threats to their military and economic survival when they first formed their government. They chose to manipulate elections so they could not lose them. Over time, they modified governance by introducing clientelism. And eventually Museveni chose to become a ruler who could not be challenged, despite claiming he began the struggle to eliminate Uganda's history of one-man rule. Over its first 20 years, their legacy virtually disappeared even though the forms of governance they restored continued to operate. Other explanations for the loss of the NRA's legacy are unsatisfactory.
CV DEL PANELISTA Y MODERADOR
NELSON KASFIR
Nelson Kasfir is Professor of Government Emeritus at Dartmouth College. He writes about African politics, democracy, parliament and development, particularly issues involving Uganda and Kenya. He edited and co- authored Civil Society and Democracy in Africa: Critical Perspectives and co-edited and co-authored Rebel Governance in Civil War. He is working on a book comparing the governance practices of two rebel groups in Uganda. He is also compiling a worldwide data set on rebel governance. Kasfir recently received a fellowship at the Stellenbosch Institute for Advanced Study in South Africa.
LUKE MELCHIORRE
Universidad de los Andes- Bogotá, Colombia
Doctor y Magister en Ciencia Política de la Universidad de Toronto. Es profesor asistente en el Departamento de Ciencia Política de la Universidad de los Andes en Bogotá, Colombia. Su investigación se enfoca en debates que abarcan la ciencia política africana y la historiografía. Basándose en el trabajo de campo en África Oriental durante los últimos siete años en tres países diferentes (Uganda, Tanzania, Kenia), ha publicado una serie de artículos revisados por pares sobre la historia política de los movimientos estudiantiles y la política juvenil en África.
RICARDO BENÍTEZ
Investigador UBA – ANUAR, Argentina
Magister en Relaciones Internacionales por la Universidad del Salvador y Licenciado en Ciencia Política por la Universidad de Buenos Aires. Director de la revista académica Ágora Internacional de ANUAR, miembro del Comité de asuntos africanos del Consejo Argentino de Relaciones Internacionales (CARI) y Coordinador del área de investigación "Explorando África" del Centro de Estudios de Política Internacional de la Universidad de Buenos Aires CEPI-UBA.